1. Age-defying heroes
40+ men can totally play college lads and go on dates with heroines half their age!
2. Fight or no fight, we will stay white
No matter how badass our heroes get on celluloid, no matter how many villains they hit, try and spot a stain on their milky white clothes if you please.
3. Forever reloaded guns
Ever seen a hero run out of bullets? Naaaaah!
Our heroes totally have fists made of iron and when you hand them a gun, there's definitely no looking back. God save the villain for our hero ain't gonna run out of bullets, buddy!
4. Bye-bye, laws of physics
If you're a Bollywood hero, laws of gravity clearly don't apply to you, because whether one, 10, or 20 goons may come to take you down, you're totally gonna kick ass singlehandedly.
5. Everyone's co-ordinated
How can everyone have the same steps to a song that just came to your mind? How? How? How?
6. Heroines wake up looking beautiful
How can anyone possibly look THIS good first thing in the morning?
7. Love gives you superpowers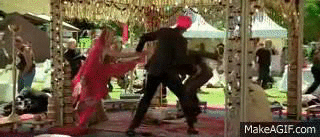 Who goes down on one knee to propose? Take a tip or two from Bollywood!